Support for drug decriminalization is waning among Oregonians as overdose rates and homelessness continue to increase, a recent survey found.
Portland-based DHM Research surveyed 500 Oregonians and found that 63% support reinstating criminal punishments for drug possession while continuing to fund treatment programs.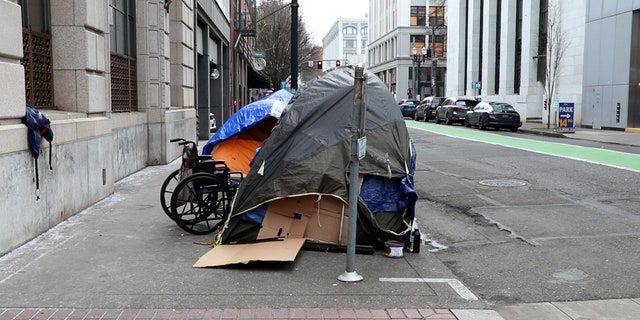 BLUE STATE LAWMAKERS PASS DRUG POSSESSION BILL IN RUSH TO AVOID DECRIMINALIZATION DEADLINE
"Oregon has turned into an international spectacle and I think we looked at each other and realize that we made an enormous mistake," Portland-based trial attorney Kristin Olson told Fox News.
Oregon is the only state in the nation where possession of personal use amounts of hard drugs including heroin, meth and fentanyl is decriminalized, after 58% of voters passed Measure 110 in 2020.
Olson voted for Measure 110 thinking it would mirror Portugal's decriminalization effort, which changed the law so that drug users are sent to counseling or mandatory treatment. But Oregon's law made possession a Class E violation, punishable by a maximum $100 fine. Treatment is optional.
"If we take away all the incentives, they're not going into treatment," Olson said.
More than 60% of voters DHM surveyed said drug decriminalization has made addiction, homelessness and crime worse.
OREGON LAWMAKERS CONSIDER CUTTING MILLIONS FROM ADDICTION SERVICES AFTER DECRIMINALIZING DRUGS
Every demographic DHM listed in the survey, which had a plus or minus 4.4% margin of error, supported bringing back criminal penalties for possession, though support was lowest (51%) among 18-29 year olds. Republicans were most supportive (80%) of re-criminalization.
"I don't think Oregonians want to restart the drug war," Olson said. "I think we didn't realize that what we were signing up for was the deterioration of civilized norms and the public spaces being ceded to people in late-stage drug addiction and engaged in all sorts of criminal activity to keep that addiction going."
Overdose deaths increased 4.58% in Oregon from November 2021 to November 2022, according to preliminary estimates from the Centers for Disease Control and Prevention. The increase was more than seven times the national average.
MARIJUANA MOGULS HAD A HALF-BAKED PLAN FOR PORTLAND PROPERTY. SQUATTERS TURNED IT INTO NEIGHBORS' NIGHTMARE
Measure 110 also redirected a significant portion of the state's marijuana tax revenue — which had previously gone to schools, police and local governments — to fund grants for harm reduction (such as distributing clean needles), overdose prevention, recovery housing and more.
But it is not used to pay for treatment, which an Oregon Health & Science University study found is in short supply in Oregon.
"People can't get detox and rehab when they need it, because our focus — particularly after 110 — is harm reduction," Olson said. "We're normalizing addiction and really our focus is on handing out needles and foil. But recovery, I think, has to be the goal."
An audit also found the state's health authority could not provide data showing how hundreds of millions of dollars earmarked for addiction services were spent.
Oregon's addiction crisis was a major topic during last year's gubernatorial race. Two of the three candidates supported repealing the voter-approved Measure 110, but not now-Gov. Tina Kotek.
The Democrat said the law's rollout had been "stuck in a bureaucracy moving at a snail's pace" and vowed to hold the Oregon Health Authority accountable if elected.
Kotek's office did not respond to a request for comment on the DHM survey.