The two far-left "Squad" members who refused to honor slain police officers are allied with an organization that supported convicted cop killers.
Reps. Rashida Tlaib of Michigan and Cori Bush of Missouri were the only Democrats this week to vote against a resolution that memorialized police officers killed in the line of duty and expressed condolences to their loved ones, Fox News Digital reported.
The resolution passed with unanimous support from Republicans and nearly all Democrats. It honored "the 556 law enforcement officers killed in the line of duty, including 224 officers killed in 2022, as well as 332 officers killed in previous years whose stories were recovered during 2022."
Tlaib and Bush have been ardent anti-police advocates in recent years. They have also backed legislation or received support for proposed legislation from a group that supported individuals convicted of killing police officers. 
'SQUAD' REP. CORI BUSH HIT WITH FEC COMPLAINT OVER PRIVATE SECURITY PAYMENTS TO HUSBAND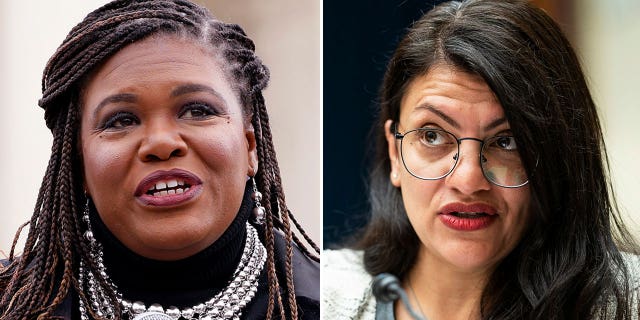 The Movement for Black Lives, a coalition of more than 50 Black Lives Matter-aligned groups that support defunding police and revamping the criminal justice system, called on supporters last summer to sign a clemency petition that included Sundiata Acoli, who was convicted of murdering New Jersey State Trooper Werner Foerster during a 1973 traffic stop.
The coalition also pushed a clemency petition for Mutulu Shakur, a former Black Liberation Army leader who was the mastermind behind several armed robberies in Connecticut and New York. In 1981, the infamous Brinks robbery resulted in the slayings of an armed guard and two police officers.
Tlaib has praised the Movement for Black Lives, previously saying that she is "committed to fighting alongside" the coalition while thanking its organizers.
Tlaib has also championed the BREATHE Act, which, among other things, aims to divest federal resources "from policing and incarceration & ending federal criminal-legal system harms, including the 1994 Crime Bill and reparations for the War on Drugs," according to its website.
CORI BUSH'S CAMPAIGN PAID HER HUSBAND FOR SECURITY SERVICES – BUT HE DOESN'T HAVE A PRIVATE SECURITY LICENSE 
The BREATHE Act originated with the Electoral Justice Project, which the Movement for Black Lives spearheads. 
The Electoral Justice Project received $15 million from George Soros' Open Society Policy Center in 2021, according to tax forms. Before entering Congress, Tlaib served as a fellow at Soros' Open Society Foundations, which she had later misrepresented in financial disclosure forms, the Washington Free Beacon previously reported. 
Bush, meanwhile, has appeared in roundtable discussions with the Movement for Black Lives, and she has also received support for legislation from the coalition. In 2021, the group praised Bush's People's Response Act, which they said advances the frameworks of the BREATHE Act. 
And last summer, Bush introduced the Helping Families Heal Act to provide mental health services to victims of police violence.
"Abuse from law enforcement opens wounds that are not so easily healed," Bush said in a press release. "As St. Louis continues to be among the top regions of police killings nationwide, it is time we center the trauma associated with state-sanctioned violence."
According to the congresswoman's website, the legislation received backing from a broad coalition of groups, including the Movement for Black Lives.
Founded in late 2014, the Movement for Black Lives opposes the capitalist system in the United States and believes "prisons, police and all other institutions that inflict violence on Black people must be abolished and replaced by institutions that value and affirm the flourishing of Black lives," according to its website. The coalition also supports several controversial agendas, including a push for reparations. 
Tlaib's and Bush's office did not respond to a Fox News Digital request for comment.
Fox News Digitals Aubrie Spady and Cameron Cawthorne contributed reporting.