Rep. Jamaal Bowman, D-N.Y., a member of the far-left "Squad," on Thursday called Rep. Marjorie Taylor Greene, R-Ga., a White supremacist, and said she wants Black people "targeted for harm" after she said she felt "threatened" by his "physical mannerisms."
Speaking to reporters outside the Capitol, Bowman addressed Greene's comments, which she made during a press conference earlier in the day in response to a Wednesday altercation between the two.
"This is why it is so important that we teach and know our history. There is a long tradition—that Marjorie should be well aware of—of Black men who are passionate, outspoken, or who stand their ground, being characterized as 'threatening' or 'intimidating.' That's what happened with Emmett Till, with Mike Brown, and with so many more," Bowman said.
LEFT-WING LAWMAKERS PRESS FOR FEDERAL REPARATIONS FOR BLACK AMERICANS: 'WE'RE HERE TO DEMAND IT'
"Marjorie's attack is beyond a dog-whistle. It's a bullhorn. And it's reckless and dangerous. She has put a target on my back," he said. "The truth of the matter is that we had a light back-and-forth on the steps of Capitol Hill, surrounded by reporters and staff. We can roll back the tapes and see her characterization of our conversation is an utter and blatant lie."
"This is, historically, what white supremacists do. They try to dehumanize Black people, Black skin, and Black humanity—so that we can be targeted for harm," he added.
Bowman doubled down in a post on Twitter later Thursday, saying, "White supremacists like Marjorie Taylor Greene use racist dog whistles to characterize outspoken, passionate Black men like me as threatening. But I won't stop speaking truth to power."
'SQUAD' DEFENDER OF ALLEGED CHINESE SPY APP TIED TO NONPROFIT THAT RECEIVED $150K FROM ITS PARENT COMPANY
The two clashed following a Wednesday vote to send a resolution to expel embattled Rep. George Santos, R-N.Y., to the House Ethics Committee rather than directly take up the measure. As Santos spoke with reporters about the vote, Bowman and fellow "Squad" member Rep. Alexandria Ocasio-Cortez, D-N.Y., heckled him to resign.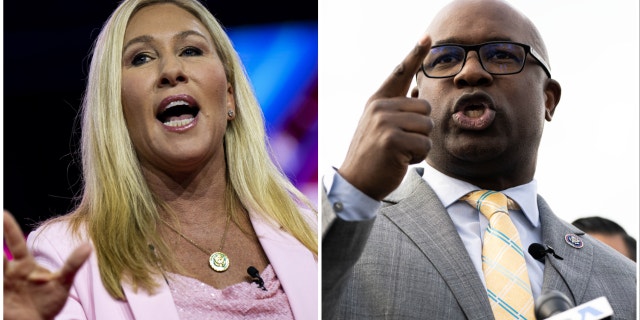 According to footage of the spat, Bowman and Greene began shouting over each other, with him calling on her to vote to expel Santos, who is facing numerous federal charges and an ethics investigation, and her calling on him to "impeach Biden" and "save the country." 
At a Thursday morning press conference, Greene told reporters she was "swarmed" by a "mob" led by Bowman, which she said was also captured on video, and that he called her a "White supremacist." 
"He was the one that approached me — even CNN reported that — yelling, shouting, raising his voice. He has aggressive — his physical mannerisms are aggressive," Greene said, while also referring to a previous altercation Bowman had with Rep. Thomas Massie, R-Ky., in March over gun violence, in which Bowman, appearing angry, continuously shouted over Massie as he tried to talk with him.
REPS. BOWMAN, DONALDS CLASH OVER HUNTER BIDEN REVELATIONS IN FIERY DEBATE: HE'S 'NOT RUNNING FOR PRESIDENT'
"I think there's a lot of concern about Jamaal Bowman, and I am concerned about it. I feel threatened by him," she said. "I am very concerned about Jamaal Bowman, and he's someone people should watch."
Greene was attacked by others following the press conference, including Democratic California Gov. Gavin Newsom, who referred to her comments as "blatant racism."
Fox News Digital reached out to Greene's office concerning the footage she said was captured on video beyond that which had already been circulating, but did not immediately receive a response.
Fox also reached out to Bowman's office about the altercation with Greene, but was referred to his comments mentioned earlier.