Special Counsel John Durham found that there was never any information to justify opening the FBI's original investigation into whether former President Donald Trump and his campaign colluded with Russia to influence the 2016 presidential election – a finding that contradicts years of commentary from Trump's opponents.
Durham was appointed to investigate the origins of that probe, known inside the FBI as "Crossfire Hurricane," just weeks after then-Special Counsel Robert Mueller completed his years-long investigation that yielded no evidence of criminal conspiracy or coordination between Trump and Russia.
Here are some of the key players who furthered the Trump-Russia narrative:
DURHAM FINDS DOJ, FBI 'FAILED TO UPHOLD' MISSION OF 'STRICT FIDELITY TO THE LAW' IN TRUMP-RUSSIA PROBE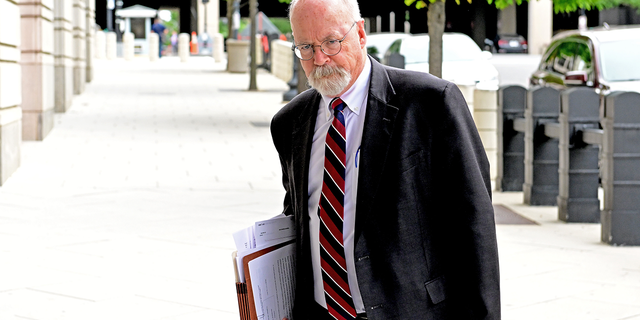 Hillary Clinton, Clinton Campaign, DNC
Hillary Clinton was the Democrat presidential nominee in 2016. Her campaign, in coordination with the Democratic National Committee, spent $40 million to fund an anti-Trump dossier that contained allegations of purported coordination between Trump and Russia.
Clinton and her campaign also worked to stir up a plan to tie Trump to Russia in an effort to distract from the investigation into her use of a private email server and alleged mishandling of classified information.
Then-CIA Director John Brennan learned of Clinton's plan, and on July 28, 2016, he "expeditiously" briefed then-President Barack Obama, then-Vice President Joe Biden and other top national security officials.
During that meeting, Brennan briefed Obama and officials on the proposal from Clinton's campaign foreign policy advisers "to vilify Donald Trump by stirring up a scandal claiming interference by the Russian security service."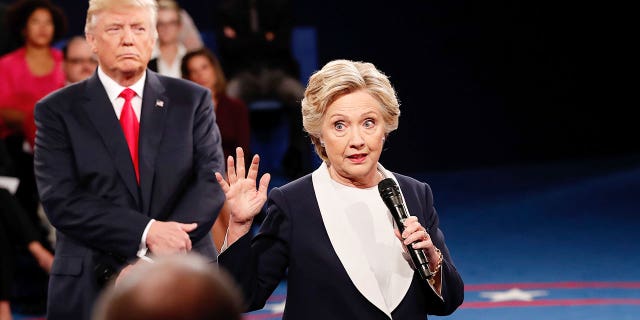 In 2016, the FBI opened the Crossfire Hurricane investigation into whether candidate Trump and members of his campaign were colluding or coordinating with Russia to influence the 2016 campaign.
In his report this week, Durham said the FBI "failed to act" on a "clear warning sign" that the bureau was the "target" of a Hillary Clinton-led effort to "manipulate or influence the law enforcement process for political purposes" ahead of the 2016 presidential election. Clinton's campaign was also behind the creation of allegations that linked Trump to Russia's Alfa Bank.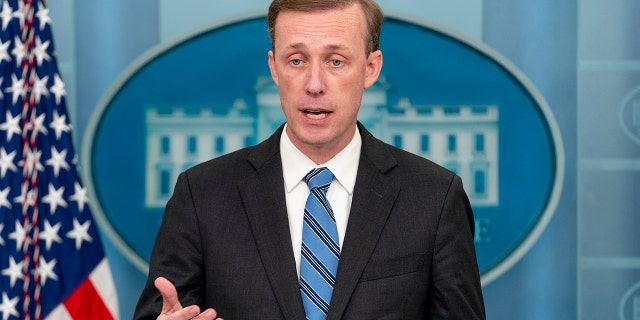 According to testimony from her campaign manager, Robby Mook, during a trial out of Durham's investigation last year, Hillary Clinton herself approved the dissemination of unproven and subsequently debunked information to the media that alleged a covert communications channel between the Trump Organization and Alfa Bank.
Fusion GPS, Christopher Steele
Opposition research firm Fusion GPS commissioned the anti-Trump dossier. It was authored by Christopher Steele, an ex-British intelligence officer, and paid for by the Clinton campaign and the DNC through law firm Perkins Coie.
Clinton campaign general counsel Marc Elias testified that he personally hired Fusion GPS.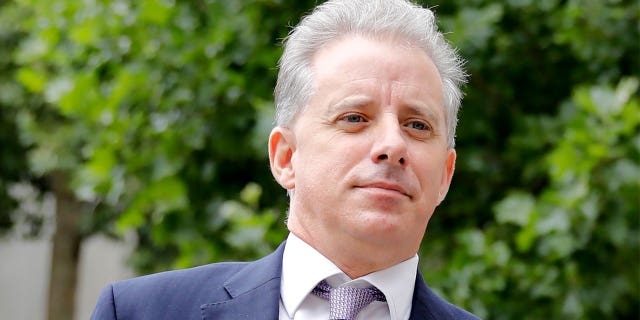 The dossier, which has been widely discredited, played a critical role in the investigation into Trump and his campaign.
The Justice Department inspector general revealed that the unverified anti-Trump dossier helped serve as the basis for controversial Foreign Intelligence Surveillance Act (FISA) warrants obtained against former Trump campaign aide Carter Page.
Michael Sussmann
Michael Sussmann, Clinton's lawyer at Perkins Coie, was charged by Durham but found not guilty of making a false statement to the FBI.
The charges came after Sussmann presented to then-FBI General Counsel James Baker "purported data and "white papers" that allegedly demonstrated a covert communications channel" between the Trump Organization and Alfa Bank, which has ties to the Kremlin.
SUSSMANN-DURHAM TRIAL: MARC ELIAS SAYS HE BRIEFED CLINTON CAMPAIGN OFFICIALS ON FUSION GPS OPPO AGAINST TRUMP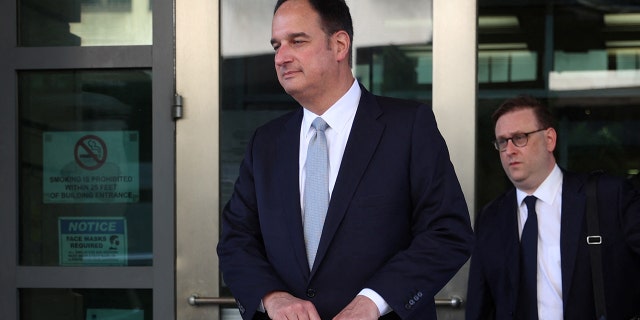 During Sussmann's trial last year, Durham said Sussmann's delivery of the Trump-Alfa Bank allegations to the FBI was part of the Clinton campaign's plan to create an "October surprise" against then-candidate Donald Trump.
The government moved to admit a tweet from Clinton dated Oct. 31, 2016, as evidence, which stated, "Computer scientists have apparently uncovered a covert server linking the Trump Organization to a Russian-based bank."
Clinton also shared a statement from adviser Jake Sullivan that said, "This could be the most direct link yet between Donald Trump and Moscow. Computer scientists have uncovered a covert server linking the Trump Organization to a Russian-based bank."
"This line of communication may help explain Trump's bizarre adoration of Vladimir Putin and endorsement of so many pro-Kremlin positions throughout this campaign," Sullivan's 2016 statement continued. "It raises even more troubling questions in light of Russia's masterminding of hacking efforts that are clearly intended to hurt Hillary Clinton's campaign."
Former FBI Director James Comey, former Deputy Assistant Director of Counterintelligence Peter Strzok
Peter Strzok, who served as the deputy assistant director of counterintelligence, launched the investigation on July 30, 2016, and James Comey was the director of the FBI when it began.
DESPITE ACQUITTAL, DURHAM TRIAL OF SUSSMANN ADDED TO EVIDENCE CLINTON CAMPAIGN PLOTTED TO TIE TRUMP TO RUSSIA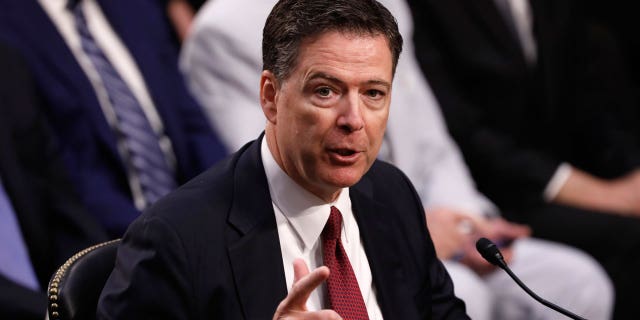 On Sept. 9, 2016, then-CIA Director John Brennan had the information about Hillary Clinton's plan forwarded to Comey and Strzok with the subject line: "Crossfire Hurricane."
"The following information is provided for the exclusive use of your bureau for background investigative action or lead purposes as appropriate," he said in a memo.
"Per FBI verbal request, CIA provides the below examples of information the CROSSFIRE HURRICANE fusion cell has gleaned to date," the memo continued. "An exchange [REDACTED] discussing US presidential candidate Hillary Clinton's approval of a plan concerning US presidential candidate Donald Trump and Russian hackers hampering US elections as a means of distracting the public from her use of a private email server."
The memo was heavily redacted.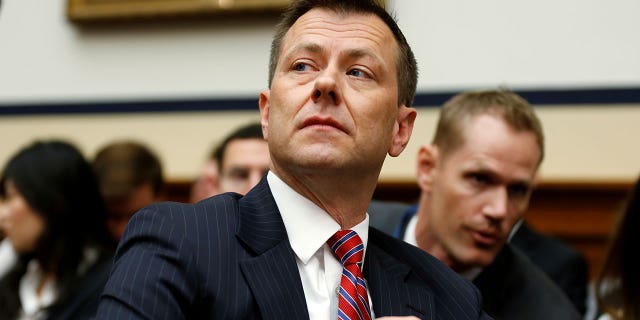 Durham said the FBI "failed to act" on this information, and he said the bureau was a "target" of Clinton's effort to "manipulate or influence the law enforcement process for political purposes" ahead of the 2016 presidential election.
But Durham's team could not charge anyone related to omission or failure to act on the "Clinton Plan Intelligence."
DNI DECLASSIFIES BRENNAN NOTES, CIA MEMO ON HILLARY CLINTON 'STIRRING UP' SCANDAL BETWEEN TRUMP, RUSSIA
"Whether these failures by U.S. officials amounted to criminal acts, however, is a different question," Durham's report said.
Strzok was ultimately chosen to join Mueller's team, but he was removed and eventually fired from the FBI after months of scrutiny regarding anti-Trump text messages with former FBI lawyer Lisa Page.
The two were also assigned to the bureau's investigation into Hillary Clinton's use of a private email server and handling of classified information, a case that was nicknamed "Midyear Exam" or "MYE" inside the bureau. Page resigned from her post as FBI counsel in May 2018, and Strzok was fired from his post in August 2018.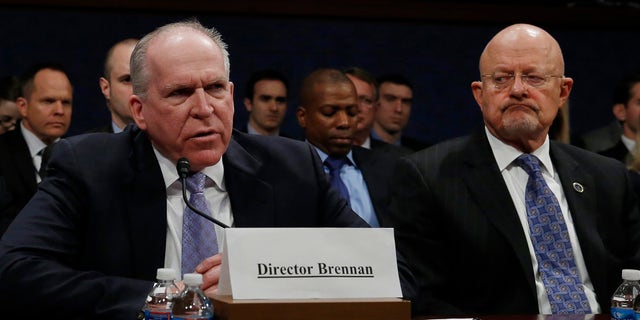 Former FBI Deputy Director Andrew McCabe
Former FBI Deputy Director Andrew McCabe also played a key role in legitimizing the Steele dossier.
The 2017 Intelligence Community Assessment (ICA) on Russian election interference revealed that the Steele dossier had, at the time, only "limited corroboration." CIA officials at the time argued the dossier should not be included in the assessment, casting it as simply "internet rumor."
But McCabe said he wanted to include it in the ICA for Obama. McCabe told the DOJ's inspector general's office he believed the Steele reporting needed to be included in that ICA because "President Obama had requested 'everything you have relevant to this topic of Russian influence.'"
McCabe argued that including it as an appendix was simply "tacking it on" in a way that "would minimize" the information and prevent it from being properly considered – despite Comey's assertion that Steele's reporting was "not ripe enough, mature enough, to be a finished intelligence product."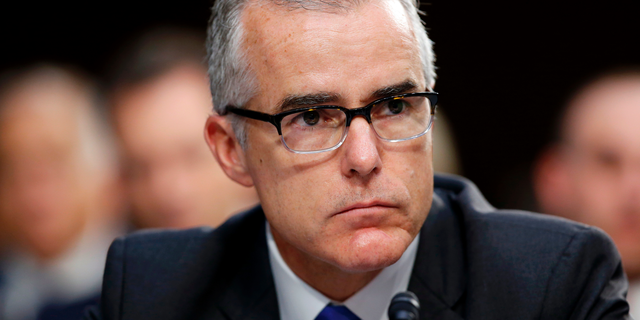 Ultimately, "the FBI's view did not prevail," and the final ICA report included Steele's reporting only as a short summary in an appendix.
NEWLY DECLASSIFIED INTEL DOCUMENT NOTED STEELE DOSSIER CLAIMS HAD 'LIMITED CORROBORATION'
McCabe testified before the House Intelligence Committee in 2017 and admitted that the FBI had "not been able to prove the accuracy of all the information."
"You don't know if it's true or not?" a House investigator asked, to which McCabe replied, "That's correct."
Obama administration officials
Top Obama administration officials repeatedly and publicly pushed the Trump-Russia collusion narrative but ultimately admitted in testimony before the House Intelligence Committee that they knew of no "empirical evidence" of a conspiracy between the Trump campaign and Russia.
Top Obama officials were questioned over whether they had or had not seen evidence of collusion, coordination or conspiracy – the issue that launched the FBI's initial "Crossfire Hurricane" probe and later Special Counsel Robert Mueller's investigation.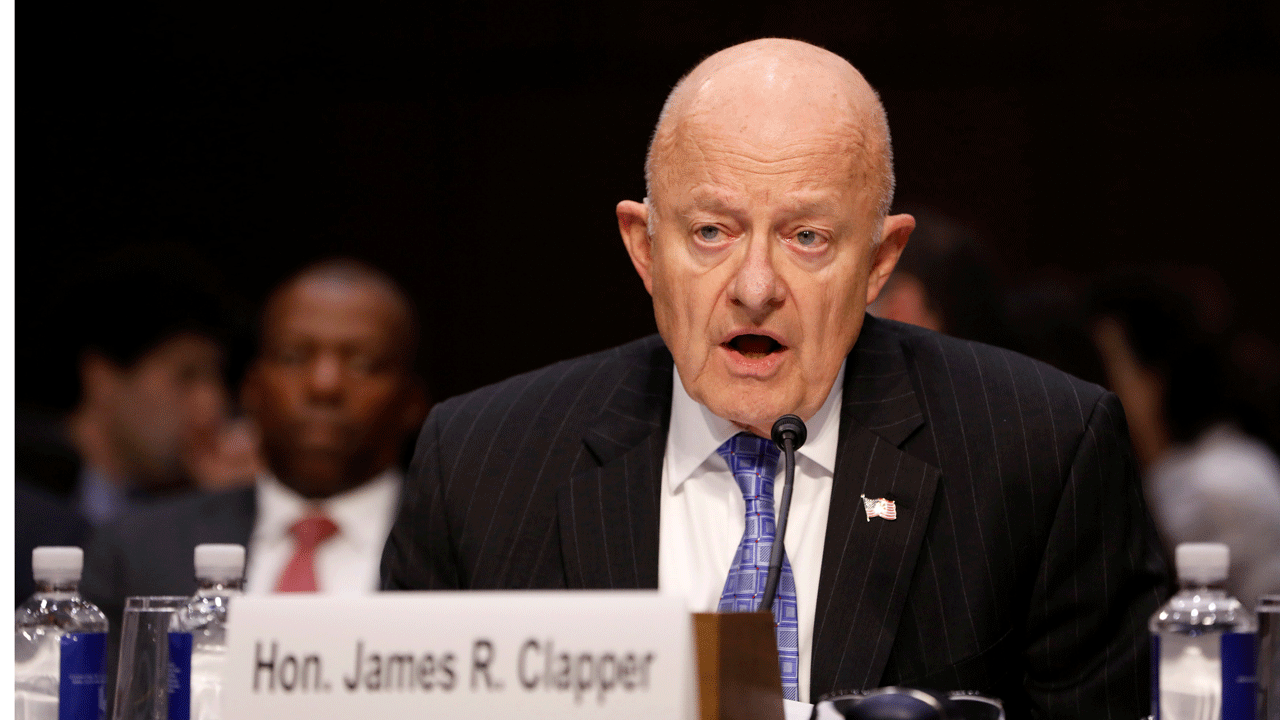 "I never saw any direct empirical evidence that the Trump campaign or someone in it was plotting/conspiring with the Russians to meddle with the election," former Director of National Intelligence James Clapper testified in 2017. "That's not to say that there weren't concerns about the evidence we were seeing, anecdotal evidence. … But I do not recall any instance where I had direct evidence."
HOUSE INTEL TRANSCRIPTS SHOW TOP OBAMA OFFICIALS HAD NO 'EMPIRICAL EVIDENCE' OF TRUMP-RUSSIA COLLUSION
Former U.S. Ambassador to the United Nations Samantha Power was asked about the same issue. Power replied, "I am not in possession of anything – I am not in possession and didn't read or absorb information that came from out of the intelligence community."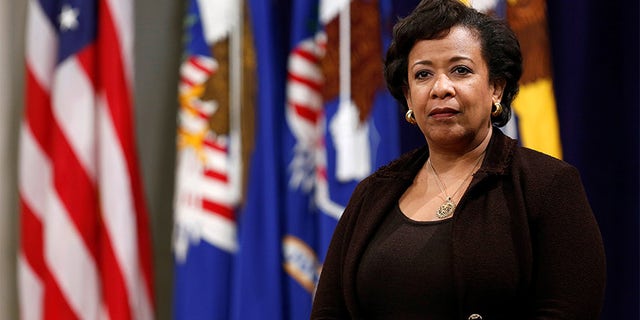 "I don't recall intelligence that I would consider evidence to that effect that I saw … conspiracy prior to my departure,"  Obama National Security Advisor Susan Rice testified.
Former Attorney General Loretta Lynch also said that she did "not recall that being briefed up to me."
"I can't say that it existed or not," Lynch said, referring to evidence of collusion, conspiracy or coordination.