The Vegas Golden Knights are back in familiar territory in the Western Conference final.
Jonathan Marchessault scored three goals for his second career postseason hat trick as the Golden Knights beat the Edmonton Oilers 5-2 in Game 6 of their second-round series on Sunday night to reach the semifinal round for the fourth time in the franchise's six-year history.
"We're only halfway done to our goal here," Marchessault said. "We're going to keep going until our organization, we win the ultimate goal. Tonight is just one step in the right direction."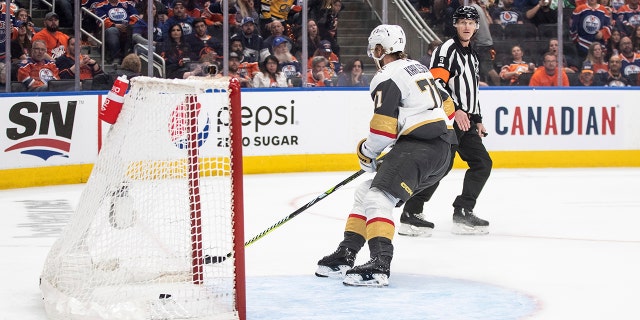 Reilly Smith and William Karlsson also scored for the Golden Knights, and Ivan Barbashev had two assists. Adin Hill finished with 39 saves in his third career playoff start.
"I've worked very hard my whole life to get to the NHL and to be here," the 27-year-old Hill said. "It's exciting being on a team that's this good and has chance to really do it all, I'm grateful and I'm excited about it."
Vegas will next face the winner of the series between Dallas and Seattle, which heads to a Game 7 on Monday night.
The Golden Knights still have half a dozen players from the team that reached the Stanley Cup Final in their inaugural season in 2017-18.
"We have a lot of older guys on the team that have been through a lot of situations," Marchessault said. "We don't panic. It's one of our strengths and it's definitely going to help in the future."
Connor McDavid and Warren Foegele scored early in the first period for Edmonton, which led 2-1 less than three minutes into the game. Stuart Skinner gave up four goals on 17 shots through two periods, and Jack Campbell stopped all four shots he faced in the third.
The Oilers fell short of returning to the conference final for the second straight year after losing to eventual Stanley Cup champion Colorado a year ago.
"It hurts," Edmonton forward Leon Draisaitl said with a shaking voice. "It's tough to find words right now. When you start a season, you're in it to win it. We're at that stage. If you don't complete that, it feels like a failure or a wasted year almost. It hurts."
JORDAN EBERLE LEADS KRAKEN WITH 2 GOALS TO FORCE GAME 7 VS STARS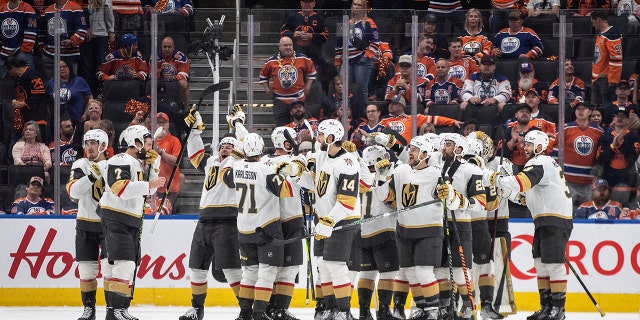 Edmonton's loss officially extended the drought for a Canadian team winning the Cup to 30 years since Montreal won in 1993.
Marchessault tied the score 2-2 at 4:26 of second period as the puck redirected off a skate in front of the crease and the right wing fired it into the opening as Skinner slid across the goalmouth to try to stop him.
"A little bit of lack of execution defensively in the second period ended up really hurting us tonight," Oilers coach Jay Woodcroft said.
Marchessault then put Vegas ahead at 7:44. After a slap shot by Alec Martinez deflected into the air off Skinner's shoulder and landed on the goal line, Marchessault tapped it in.
Seconds after a Vegas power play expired late in the middle period, Marchessault completed his hat trick with a 4-on-4 goal with 1:24 remaining. His wrist shot from just above the hash marks on a cross-ice feed from Alex Pietrangelo beat Skinner far side.
Leon Draisaitl, who scored 13 goals in his first eight playoff games, and McDavid were reunited on the same line in the third period in an attempt to produce more offense. The Oilers generated several chances and McDavid rang a shot off the post.
Campbell was pulled for an extra attacker with over three minutes to play in the third, but Hill and the Golden Knights stood firm.
"What was the difference? They did a lot of good things, they shut it down," McDavid said. "The third period was clinical. We still had our looks and didn't find a way to get one past him."
Karlsson sealed the win with an empty-netter in the final minute.
The Golden Knights held Edmonton's vaunted power play to one scoreless chance in the second period. The Oilers, the NHL's highest-scoring team in the regular season, was held to 10 goals over the last four games of the series.
The Knights also outscored Edmonton 17-10 even-strength.
"Our 5-on-5 game, I think it's been good all year," Marchessault said. "We were down 1-0 and 2-1 quite often in that series and we battled back."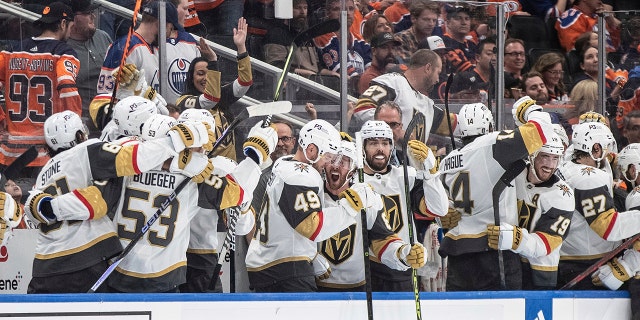 Vegas got on the scoreboard first as Smith scored his second in two games off an Edmonton turnover in its own corner. Skinner cleared the puck along the boards into a pair of Vegas jerseys and the puck came out to Smith in the slot for a goal 24 seconds into the game.
McDavid tied it just 31 seconds later as he got a pass from Brett Kulak and beat Hill with a low shot far side under the goalie's blocker.
Foegele put the Oilers ahead at 2:43 when he got a backhanded pass from Derek Ryan from behind the goal line and scored while driving to the net.
BIG-MINUTE MEN BACK
Both clubs had premier defensemen back in their lineups Sunday after they served one-game suspensions in Game 5 — Edmonton's Darnell Nurse and Vegas's Pietrangelo.