A historical society in Missouri is hoping to place names to the American soldiers' faces as part of a neighborhood mystery linked to World War II.
The McDonald County Historical Society is asking for the public's help in identifying 65 veterans — all included in a photo album created during the war, as local boys and young men left their homes in the southwest corner of Missouri to serve their country.
"There are roughly 115 veterans in the album that needed to be identified," Hazel Sheets, director of the McDonald County Library in Pineville, Missouri, told Fox News Digital. 
WITH WORLD WAR II AIRMAN'S REMAINS FOUND, RELATIVE FINALLY 'HAS CLOSURE' FOR WHOLE FAMILY
When she inherited the project — known as the "Bonnibel Sweet Album" — Sheets began submitting photos of the unidentified veterans, one at a time, to the local newspaper and posting them on social media in the hope that someone might recognize a family member or family friend.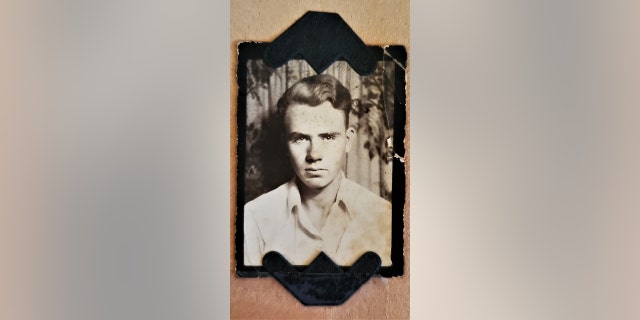 "As of today, 50 of the photos have been named," Sheets said. 
"Since I started posting the photos, I have received help in identifying 21 [more] of those photos. There are still about 65 photos that need to be identified." 
The photos are part of an album compiled by Bonnibel Brown Sweet, who helped run her family's business, a drug store called Brown's Sundries. It was located in the town square, according to Lynn Tatum, board chair of the McDonald County Historical Society.
"The drug store was kitty-corner from the old courthouse where our museum is housed now," Tatum told Fox News Digital.
US AIRMAN'S REMAINS FORMALLY IDENTIFIED 79 YEARS AFTER B-24 CRASHED DURING WORLD WAR II
"Bonnibel ran the place with her sister for, I think, 50 years," Tatum added. 
"She was a surrogate mother to all of the kids walking to school — and became more than that," Tatum went on. "She was like a counselor. Kids would go in and practice their speeches for school and she gave advice. She became a very beloved character in our county."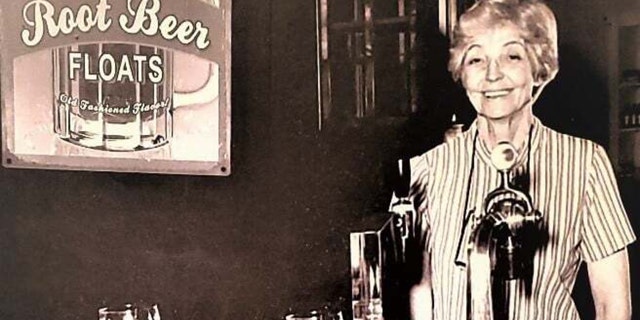 During WWII, Sweet watched from her corner store as young men waited for a bus to take them away from the wooded hills of Pineville to basic training and then off to wherever they were stationed for service.
"Many of those kids that she had been nurturing had grown up and had signed up to go to war," Tatum said. 
"She was a surrogate mother to all of the kids walking to school and became more than that … She became a very beloved character in our county."

— Lynn Tatum
"They were so dear to her that when they went off to war, she gave each one of them a silver dollar to remind them that they had someone back home who loved them," she said.
PATRIOT REMEMBERED: MILITARY MOM MEMORIALIZES SON WHO DIED IN NATIONAL GUARD HELICOPTER CRASH WITH NEW BOOK
She told them to use the silver dollar for anything they needed during their service — a phone call, a cab ride or a bite to eat. 
In return for her love and the silver dollar, many of them sent her letters and photographs, which she collected in an album.
"Some of the photographs had no names with them," Tatum said, "but she knew their names. She also put up a great big map of Europe on her wall in the drug store. It included France and Italy and all of those countries where so many of them went."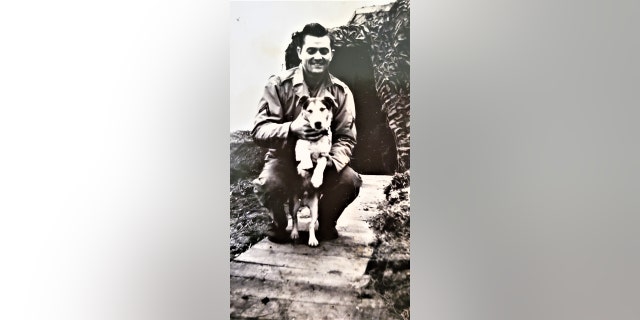 Tatum explained that Sweet, after receiving word from a local serviceman, would put a push pin on the map, marking where that person was stationed.
"So people could come into the store and it was like a little news outlet for where the young men were," Tatum said.
WWII VET, 100, LIVES 'CHARMED LIFE' IN SPITE OF SURVIVING GREAT DEPRESSION, DUST BOWL STORMS AND A GLOBAL WAR
Over 120 young men mailed their photos to the drug store. There are also two servicewomen's photos in the album.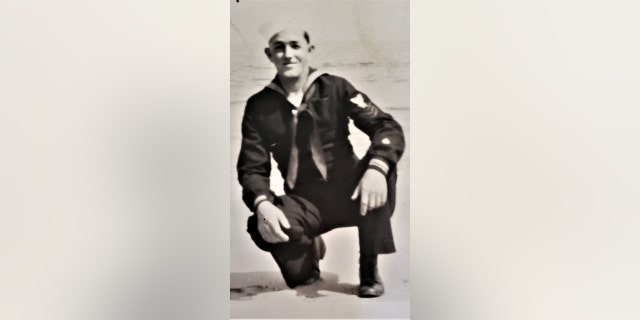 Sweet ran the business from 1929 to 1978. 
After she died in 1996, the album was passed along to her daughter, Donna Lou Sweet Goodman, who moved to the East Coast after she got married.
Members of the McDonald County Historical Society led an effort to recreate Brown's Sundries, the drug store where so many soldiers said their goodbyes and returned home to Pineville.
MINNESOTA WWII VETERAN CELEBRATES TURNING 100 YEARS OLD, WISHES TODAY'S YOUNG PEOPLE HAD 'MORE BACKBONE'
"Donna Lou was very helpful to us when we started the big exhibit," Tatum said. "She gave us some money and some artifacts from the drugstore."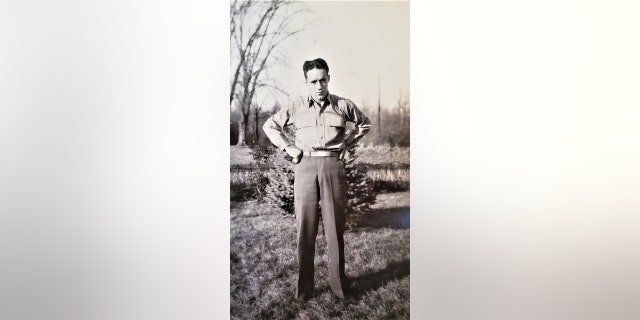 Today, when kids visit the museum, they can pretend to order a soda at the fountain, sit at a booth or on stools at the counter, pay at an old-fashioned cash register and listen to music on a jukebox.
Before Sweet Goodman died, she passed the album along to her son, Bonnibel Sweet's grandson, Michael Goodman, who today lives in New Orleans, Louisiana.
WWII VETERAN CELEBRATES 100TH BIRTHDAY, REVEALS HIS SECRETS AND 'LIFETIME OF INSPIRATION'
"He decided he would donate the album to the McDonald County Historical Society, so that he did," Tatum said.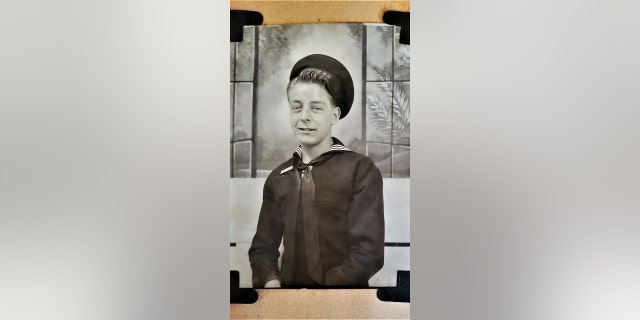 Tatum said that when she and Sheets got the album a few years ago, about a third of the photos had names.
She added that the society is a long way from identifying all of the veterans.
"Every once in a while we hit gold and somebody calls in."
Still, she applauds Sheets for launching a plan to try naming them all.
"Every once in a while we hit gold and somebody calls in, and then Hazel [Sheets] will do her best to research," Tatum said. 
"We listen carefully to the wording when people say, 'I think this is someone I know,' or 'This person looks like this family.' And we wait until we've got a pretty clear identification of the person."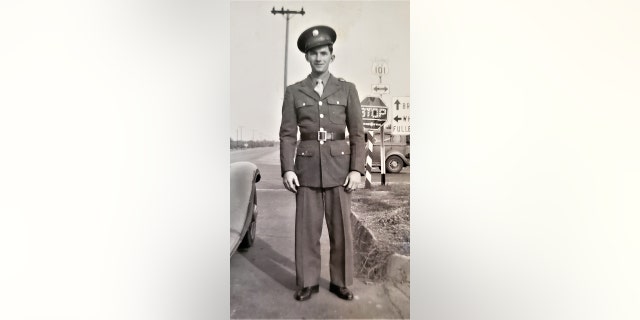 With the album back in Pineville, lots of stories surrounding Bonnibel Sweet have been uncovered, Tatum said.
"A friend of mine, who now has passed, came into the museum one day and said, 'Here's a story,'" Tatum said. "He said, 'Bonnibell was gone somewhere and her pipes broke. She had a flood in her house, so somebody called a handyman.'"
"He was moving furniture around in her living room, and when he lifted the coffee table, the top came off," Tatum continued. "The legs of the coffee table were hollow and inside were stacks of silver dollars.'"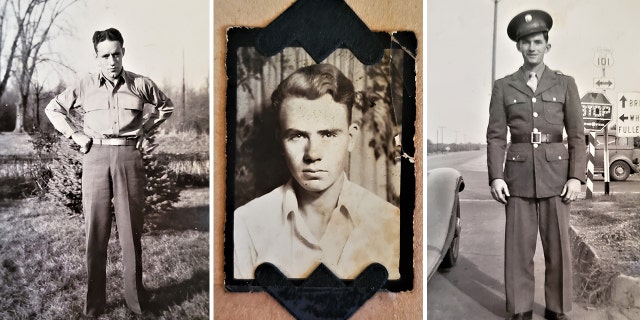 Tatum said that a neighbor reportedly called the bank president, who safeguarded the silver dollars until Sweet returned from her out-of-town trip.
"We try to keep those fun stories alive," Tatum added.
CLICK HERE TO SIGN UP FOR OUR LIFESTYLE NEWSLETTER
If you recognize any of the service members shown in the photos in this article, please contact the McDonald County Library at 417-223-4489.