A California sheriff's deputy was injured during the pursuit of a driver who allegedly rammed a stolen car into multiple patrol vehicles, according to officials.
The Alameda County Sheriff's Office said deputies located someone driving a stolen vehicle on Interstate 580 in San Leandro at around 2 p.m. Tuesday. Deputies followed the vehicle until "additional resources" were in place to help with a high-risk traffic stop.
The suspect, later identified as Jose Barajas-Avalos, 27, eventually pulled into a parking lot near 35th Avenue and E. 12th Street and deputies attempted to contain him.
Barajas-Avalos then intentionally rammed his vehicle into three occupied patrol cars, disabling two of them and injuring a deputy, the sheriff's office said.
SAN FRANCISCO DA RELEASES VIDEO OF WALGREENS SECURITY GUARD SHOOTING ALLEGED SHOPLIFTER BANKO BROWN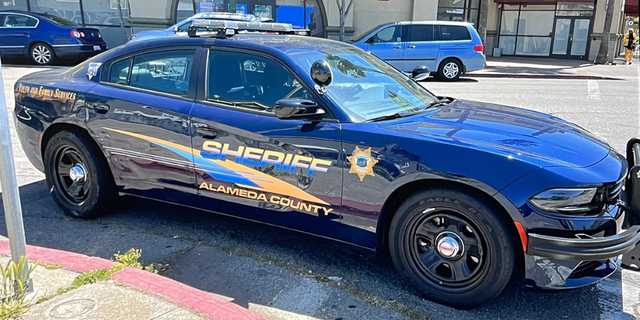 Barajas-Avalos fled the scene, but the sheriff's office's air support was able to keep eyes on him.
The vehicle was later located in the 700 block of High Street. Barajas-Avalos had exited the car and was found hiding in a parked vehicle. He was then taken into custody without further incident.
CALIFORNIA SWORD ATTACK ENDS WITH HOMELESS MAN'S HAND CHOPPED OFF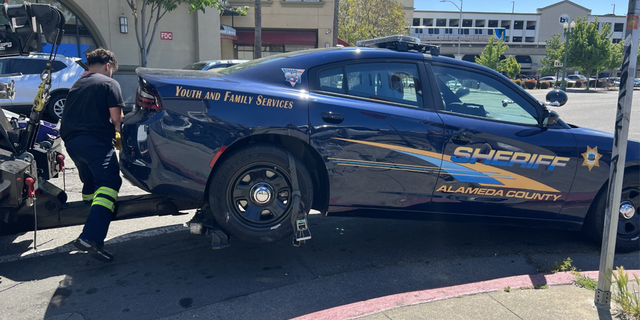 The injured deputy was transported to a local hospital where he received treatment for minor injuries. His vehicle was towed from the scene after suffering major damage.
"We are thankful our deputy did not sustain any life-threatening injuries," the sheriff's office wrote on Facebook.
Barajas-Avalos is on active probation and has an extensive criminal history, including several arrests for vehicle theft, according to the ACSO. He was booked into the Santa Rita Jail on multiple felony offenses.