Two dozen 19th century medals earned by brothers who were world-class rifle shots were returned Wednesday to the National Park Service site in Massachusetts from which they were stolen decades ago.
"The return of these marksmanship medals helps fill in a little bit of that mosaic of that picture of who we are," Kirsten Talken-Spaulding, the National Park Service's deputy regional director, said at a news conference at the Springfield Armory National Historic Site.
Brothers Freeman Bull and Milan Bull, who worked as machinists at the armory for decades, joined the armory's shooting team in the late 19th century and earned the medals at target shooting contests both in the U.S. and overseas, officials said.
VIETNAM VETERAN'S DOG TAG FOUND IN RICE FIELD, RETURNED TO FAMILY 57 YEARS LATER: 'MEANS THE WORLD'
The Springfield natives were also members of the Massachusetts Volunteer Militia, the precursor to today's Massachusetts National Guard.
Freeman Bull's daughter donated the medals to the armory in 1944.
The armory was established in 1777 as an arsenal to supply the Continental Army during the Revolutionary War. Now a national historic landmark, it continued making weapons until the late 1960s and since 1974 has been operated by the National Park Service. It has the world's largest historic collection of U.S. military small arms, according to its website.
The medals are "significant pieces of military history and our nation's heritage," said Joseph Bonavolonta, head of the FBI's e, which played a critical role in their recovery.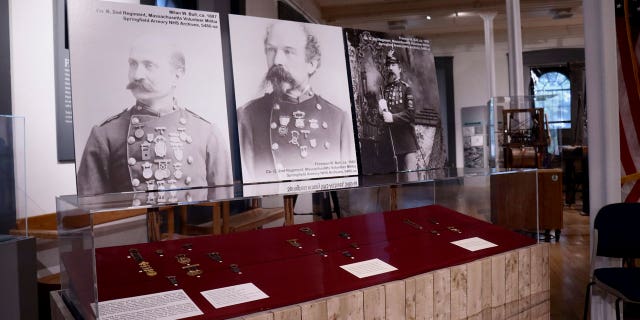 In October 2021, authorities got their first clue about the whereabouts of the medals that are believed to have been stolen in the 1990s when a collector in Tennessee contacted curator Alexander MacKenzie wanting to know more about some medals he had recently paid $4,500 for, Bonavolonta said.
"The armory determined that the artifacts in the collector's collection matched the description of the missing marksmanship medals and contacted the FBI for help in seizing them," Bonavolonta said.
The Tennessee collector had purchased them from a Massachusetts resident, who had bought them at a gun show from a Pennsylvania man, who got them from a collector in Connecticut.
FBI RETURNS 50 STOLEN ARTIFACTS TO MUSEUMS IN 5 STATES
"And that's where the trail goes cold," he said.
Bonavolonta stressed that none of those people knew that the medals had been stolen, but the FBI last year filed a civil forfeiture action to recover them for the armory.
What's remarkable is that the collection remains intact and in good condition despite passing through the hands of several collectors, said Alexander MacKenzie, curator of the Springfield Armory.
Some are made of gold and easily could have been scrapped or pawned, he said.