A dog has been hospitalized in Central Florida after a 12-foot alligator attacked the canine earlier this week.
The dog had been taken out for a walk on May 12 near the Little Econ River at Riverside Park, which is located in Oviedo, Florida.
Lisa McDonald, communications manager for the City of Oviedo, confirmed that there was a reported alligator attack that happened on Friday, but the exact time is unknown since no 911 call was made and park staff were notified a day later.
AMERICA'S STRANGEST ALLIGATOR ENCOUNTERS: SEE THESE 13 STARTLING STORIES
"A boyfriend and girlfriend were walking their dog at Riverside Park in the back along the Little Econ River when an alligator came out and snatched it," McDonald wrote in an email to Fox News Digital. "According to staff, (not witnessed), the boyfriend jumped on top of the alligator to rescue the dog. They were able to free the animal."
The rescued dog is reportedly receiving care at a local animal hospital, according to FOX 35 Orlando.
Park staff contacted the Florida Fish and Wildlife Conservation Commission (FWC) on Saturday after learning about the reported incident. An alligator trapper then captured the large reptile on Sunday, according to McDonald.
"In this area, there are several large alligators," McDonald wrote to Fox News Digital.  
She noted that Riverside Park has multipurpose fields with two large pavilions on either side of an old volleyball field to the west.
MASSACHUSETTS DOG WALKER SURROUNDED BY PACK OF COYOTES: HOW TO KEEP KIDS, DOGS SAFE
"To the west of that is a heavily wooded area that leads down to the river," McDonald wrote. "Because the river is so low, people can walk down there."
"Dog owners are highly discouraged from walking their pets near any body of water due to the dense alligator population, especially during alligator mating season," she continued.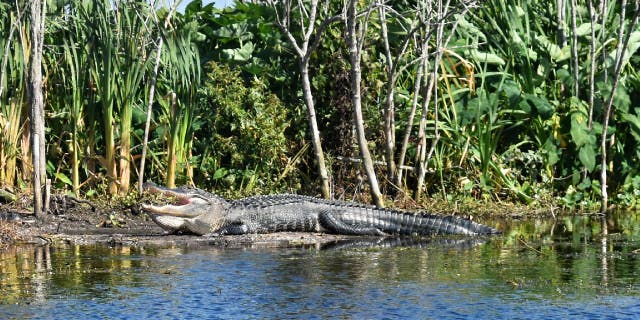 The alligator that bit the couple's dog has been killed, according to FOX 35 Orlando.
Fox News Digital reached out to the FWC for comment.
FLORIDA WOMAN ATTACKED BY BEAR IN HER OWN DRIVEWAY WHILE WALKING HER DOG 
The FWC's Statewide Nuisance Alligator Program (SNAP) proactively addresses alligator threats in developed areas by dispatching contracted nuisance alligator trappers who handle removal.
Nuisance alligators are generally longer than four feet in length and pose a threat to residents. Humans and pets should keep their distance from alligators, according to the FWC.
The FWC's SNAP webpage says captured nuisance alligators are euthanized because relocation doesn't stop nuisance alligators from returning to their capture sites, or surviving remote areas where competing, territorial animals live.
CLICK HERE TO SIGN UP FOR OUR LIFESTYLE NEWSLETTER
Florida has an alligator population of about 1.3 million across the state's 67 counties, according to the FWC.
To minimize the risks of experiencing an alligator attack, the FWC advises that pets be leashed and kept away from shorelines of water bodies.
Humans and pets should only swim in designated swimming areas during daylight hours, according to the FWC. The environmental agency also advises against allowing pets to swim in fresh or brackish water because alligators can typically be found in these environments.
Florida residents and visitors who need to report a potentially dangerous alligator can call the FWC's toll-free Nuisance Alligator Hotline at 866-FWC-GATOR (866-392-4286).